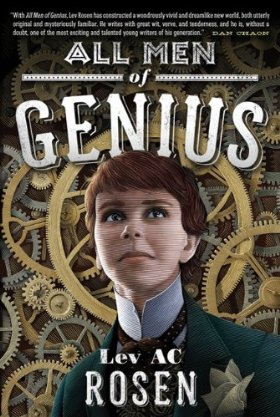 All Men of Genius
by Lev AC Rosen
"Furthermore, I don't recommend emulating the behavior of any of the characters contained within.
They're all quite mad.
The truth is, I have no idea what I'm talking about.
Except about love. We all know a little about that.
Or nothing at all."
- Author's Note
This book is a basically a steampunk mashup of
Twelfth Night
and
The Importance of Being Earnest
. Need I say more? Well, I will anyway.
Violet Adams is not your typical Victorian girl. She spends her spare time up to her elbows in grease and gears in her family's basement inventing wonderful things. She is serious and bullheaded, and frustrated that because she is a girl, she will never be recognized for her genius by her scientific peers. Her twin brother, Ashton, is the opposite: an easy-going poet and all around foppish cleverboots.
She hatches a plan to dress as a boy so she can enter Illyria College, the best scientific school in the city. Along the way she makes friends and enemies (an excellently bitter and entitled Malcom Volio), falls in love, fights against an evil plot, is awesome and smart, and fights an incredible battle to win her place in the scientific community.
I. LOVED. THIS. BOOK. It is crammed with characters and references to both Twelfth Night and Importance of Being Earnest, but it is not slavishly devoted to either story. You get themes, characters, delightful flavors, and sometimes direct quotes, but Rosen makes them his own. For example, Mariah from Twelfth Night is Miriam Issacs, a "Jewess" born in Persia, married and widowed in Paris, and then employed as governess to Cecily (Cecily/Olivia). Miriam's relationship with student Toby Belch warms my heart. Cecily is as naive and youthful as Cecily Cardew, and falls for Violet-dressed-as-a-boy a la Olivia. Violet herself (after a long struggle) falls for Earnest, Duke of Illyria. Another example: One of the Professors is named Bunburry, and he rather accident prone.
Like Neverland, it is nicely crammed, and there is hardly any space between one reference, and another, but if you don't know either play, you can appreciate the book for its own merits. And if you do know both plays, you will not be ruined on the story.
It sounds complicated, but it doesn't feel that way while you are reading it. Reading the book feels like surfing, where you ride the rhythms of each section, and switch to the next wave of text as it comes. It is easy and exciting, and flows really well. And then, like a video game, you collect the little gold coins of allusion as you ride.
The 3rd person point of view slides just as easily. Each character, including all the minor ones, gets their moment (or more) of perspective. You get to look through the eyes of of the all main characters, of course, but then you have moments when you are in the brain of Lothario Prism, the aging professor, to get his unique perspective on the science faire set up at the Crystal Palace, or Fiona, the burlesque actress Violet hires to be her maid, and who ends up seducing Drew Pale (a still pitiful, but happier Andrew Aguecheek).
I also loved Violet's character development. At the beginning she was brash and fearless because she was naive and young. As she matures, she hones those features into a genuine bravery and strength of character. She learns that femininity is not weakness, and she that she can be both a girl, and fully herself.
The book is also chock full of imaginative, steampunky science, which for the most part I loved. However, biology class made me cringe a bit. The biology class's sole purpose is to experiment on animals. Rosen does have Jack Feste upset when he kills an animal in his experiment, but the idea of "improving" animals (giving ferrets bat wings, or switching animal's voice boxes), while it lead to comical outcomes, made me uncomfortable.