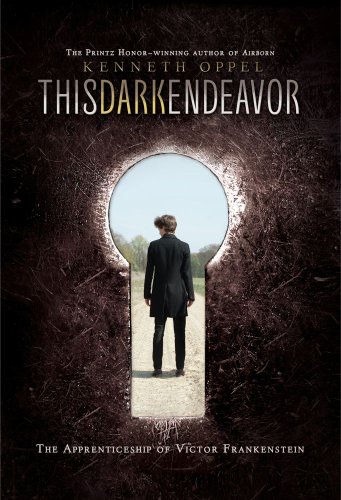 This Dark Endeavor: The Apprenticeship of Victor Frankenstein
by Kenneth Oppel
Young Victor Frankenstein and his twin brother Konrad live in a large mansion in Bellerive with their mother, father, two young brothers, their cousin Elizabeth, and occasionally their best friend Henry Clerval. While their lives are relatively happy, there is tension between the twins: Konrad the bright shining one, and Victor, his darker, more ambitions shadow. When Konrad falls ill, Victor is consumed by the mission to save him, even if it means delving into mysterious and potentially dangerous science.
This book is a very quick read! It is an adventure story, through and through, with intense and gripping action sequences as Victor, Elizabeth and Henry make a deal with a shady former-alchemist and fight to get the ingredients for Konrad's cure (high treetops with vicious vultures, deep and treacherous caves, and a final very personal ordeal).
The most compelling element for me was how Oppel takes the older Victor, Elizabeth, and Henry of the classic story and works backwards to extrapolate how they came to be who they are in Frankenstein. Victor is the most successful of all. He is both protagonist and antagonist. He has good intentions, but his passion, selfishness, vanity, and blind ambition distort his thoughts. He is a villain who doesn't know he is a villain; my favorite kind. And in many ways, he is your typical teenage boy, full of jealousies and too many hormones for his rational mind to handle. It is easy for me how this Victor became the Victor of Mary Shelley's horror story. His need for power and dominance, his obsession with science and of gaining mastery over life and death to save his brother, his disregard for the effect of his actions on others are all classic Victor. He will sacrifice anything, even himself, to get want he wants.
Oppel also allows us some wonderful and gruesome moments of the sublime. The sublime, as defined to me in school when we studied Frankenstein, is something that instills a mix of awe and terror, which often occurs when you see the Monster. Like a gristly car crash from which you cannot look away. They are scattered sparingly through out the book, but when Victor is confronted with one of those gristly images, or participates in a horrific act, you can see the subtle fascination it holds for him. Skin separated from bone, cutting through innards to get to the contents of a stomach; it attracts him as it repulses him.
While there is less existential discussion in this one as there is in Mary Shelly's book, it is perfect for middle school and early high school students wrestling with issues of their own, and a great entry point for the classic Frankenstein.
Books like this: