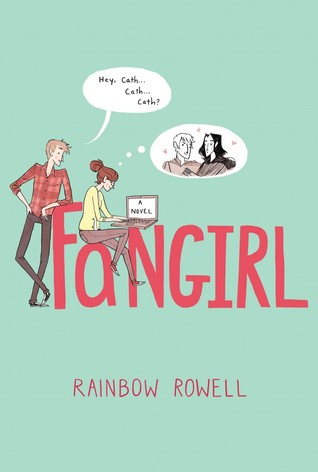 Fangirl
by Rainbow Rowell
"I'm the Cool One," she told herself. "Somebody give me some tequila because I'll totally drink it. And there's no way you're going to find me later having a panic attack in your parents' bathroom. Who wants to French-kiss?"
Cath is a
Simon Snow
fan. A big one. In fact, she writes one of the most popular Simon Snow fanfictions in the world. Cath is entering college, and for the first time is not rooming with her twin, who she needed to define herself as an individual. With all these new changes in her life, her anxiety is spiking, and it is easy to hide in
Simon Snow
(a thinly veiled
Harry Potter
). Yet, little by little, new relationships tempt her to stick her foot out the door into the uncertain world. When her fears about the world are proven to be correct, will she retreat into the world of
Simon Snow
forever, or gather the courage to face unpredictable real life head on.
I loved this book. I believe
Eleanor and Park
was probably better, but
Fangirl
was very personal. It is an excellent exploration of anxiety, the paralyzing fear of the unknown, the fear of waves of "crazy." It was heartening to see Cath open up to new experiences and new friends, even as she held fast to her fandom, first as her shield, and then as a comfort. Her relationship with her kind and driven father who struggles with manic depression, and her relationship with her twin, a fellow Simon Snow fan who begins to have a rather destructive college experience were highly compelling. Her love interests were tender, sensual and silly, but felt a bit one dimensional to me. Perhaps a bit too perfect. But comfy and lovely and highly enjoyable. Rowell has an amazing talent for letting her characters live without forced conflict, and it is still interesting. You watch them be happy, and you are happy for them. That is not to say there is no conflict. Cath must go through a lot to get her happiness.
I highly recommend it to anyone who has been far away from home in a new place, trying to redefine yourself, to passionate fans of anything, and to anxiety sufferers.